Show information for the week of July 13 - 19
Toonie Matinees all summer long!

Toonie Matinees
Toonie matinees are back! All seats, all ages just $2!
All Summer Long!
*Matinees are considered to be any show starting before 4pm
Newly re-edited !
Show Dogs


Toonie Matinees all summer long!
12:30pm
Rated:
Genre: Comedy, Family
Running Time: 92 min.
Director: Raja Gosnell
Max (voice of Ludacris), an undercover Rottweiler police dog, is working on a kidnapping case in which a baby panda was stolen. It's believed a dog show being held in Las Vegas is being used as cover for animal smuggling.

Although Max is used to working alone, he's assigned a human partner, Frank (Will Arnett). The two disagree on almost everything, but when it's decided Max has to pose as a show dog in order to get the inside scoop at the show, Frank has fun bathing and primping the macho dog for his disguise.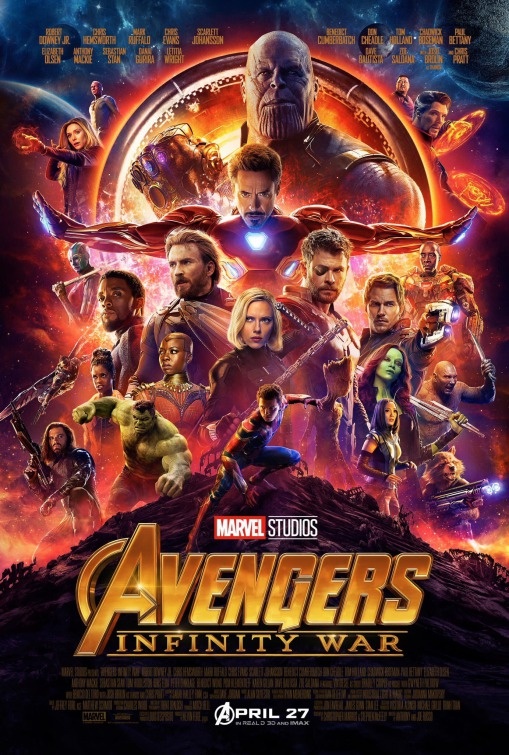 Avengers: Infinity War
Toonie Matinees all summer long!
2:15pm
Rated:
Genre: Action/Adventure, Sci-Fi/Fantasy
Running Time: 150 min.
Director: Anthony & Joe Russo
When Thanos goes on a mission to collect all six Infinity Stones in order to use them to cull half of all the living beings from the universe, Thor (Chris Hemsworth), Hulk (Mark Ruffalo) and Dr. Strange (Benedict Cumberbatch) urge Tony Stark (Robert Downey Jr.) to put aside what happened before in order to team up with Steve Rogers (Chris Evans) in an effort to keep the stones from Thanos.

Spider-Man (Tom Holland) comes along for the ride, and when the Avengers meet up with Peter Quill (Chris Pratt) and his Guardians of the Galaxy, they realize they're on the same side. Rocket (Bradley Cooper) and an adolescent Groot (Vin Diesel) go off with Thor, while Gamora (Zoe Saldana), Thanos' adopted daughter, tries to stop her father from executing his evil plan.
Book Club

Nightly EXCEPT Friday, Monday & Thursday for special events
5:00pm
Rated:
Genre: Comedy

Running Time: 104 min.
Director: Bill Holderman
Four successful women in their sixties — Diane (
Diane Keaton
), Vivian (
Jane Fonda
), Sharon (
Candice Bergen
) and Carol (
Mary Steenburgen
) — each have something in her life that she needs to set right. Vivian is a wealthy hotel magnate who has been ignoring love for most of her life, settling instead for flings.
Sharon (Candice Bergen), a Supreme Court justice, still hasn't gotten over her divorce and hates the fact that her ex-husband is dating a woman young enough to be his daughter. Carol (Mary Steenburgen) is married, but her husband shows no interest in her. Diane (Diane Keaton) is a widow whose grown daughters treat her like a child.
Having read the book
Wild
the month before, but feeling unable to relate to it, Vivian decides to introduce the women to Christian Grey – the handsome title character of the bestselling novel
Fifty Shades of Grey
. The other women protest her choice at first, but soon each one is captivated by the story. From discovering new romance to rekindling old flames, they inspire each other to make their next chapter the best chapter.


Ocean's 8
Nightly EXCEPT Friday, Monday & Thursday for special events
6:45pm
Rated:
Genre: Action/Adventure, Thriller
Running Time: 110 min.
Director: Gary Ross
When Debbie Ocean (Sandra Bullock), sister of renowned thief Danny Ocean, is released from prison after a five-year stint, she immediately goes back to her old line of work. Having plotted out a jewel heist to take place at New York City's yearly Met Gala, she's set her sights on a Cartier necklace worth $150 million. Along with her close friend and partner-in-crime, Lou (Cate Blanchett), Debbie assembles a team of skilled women to aid in the heist, promising each of them a paycheck of $16.5 million for their services.

First, they have to arrange that the Cartier necklace is worn to the Gala. Debbie decides that celebrity diva Daphne Kluger (Anne Hathaway) will be the perfect mark. They get a stylist (Helena Bonham Carter) to convince Daphne to wear the sparkling necklace, which comes with a team of security experts. With only a few weeks to put the plan in motion, the crew of veterans and newcomers have to get all their skills lined up in order to pull off their foolproof plan.
Deadpool 2
Nightly EXCEPT Friday, Monday & Thursday for special events
8:45pm
Rated:
Genre: Action/Adventure, Comedy
Running Time: 119 min.
Director: David Leitch
Lovable sarcastic antihero Deadpool (Ryan Reynolds) takes the audience back in time, when he figuratively and literally "took the guns out of the hands of criminals." Unfortunately, he neglected to slaughter one bad meth boss (Thayr Harris). This mistake comes back to haunt him. Deadpool falls into a depression that no giant, comical bag of cocaine can fix.

Deadpool ends up becoming a reluctant "X-Man in training," where he reunites with some familiar characters and meets Russell (Julian Dennison), a child mutant with anger issues who is in need of saving from Cable (Josh Brolin), a mysterious time traveler. In order to fight again this foe, Deadpool recruits a team, dubbed the X-Force, to take him on.
American Graffiti

Presented by Sun Valley Cruise-In
Friday, July 20th at 7:00pm

Genre: Comedy, Drama
Running Time: 110 min.
Tickets: $7



In this coming of age film, a group of teenage friends go an adventure one night after their high school graduation. Longtime buddies Curt (Richard Dreyfuss), Steve (Ron Howard), John (Paul Le Mat) and Terry "The Toad" (Charles Martin Smith) meet at a parking lot to hang out on the night before Curt is supposed to leave with Steve to start college in the northeastern United States.
The group splits into pairs, and each pair experiences different adventures throughout the night. Curt meets a mysterious blonde and spends the rest of the evening in pursuit of her. The night eventually comes to an end, but not without complications and unexpected turns.
Advanced Tickets now available at The Towne Cinema Box Office
Don't forget to sign up for our weekly email with next weeks showtimes!
At The Towne Cinema, we are dedicated to providing our customers with friendly service. We value your business. We have made it our mission to provide a memorable experience in our customer-driven approach.
Our courteous, professional team is able to support a range of services to meet your requirements.