Show information for the week of September 14 - 20
Hotel Transylvania 3: Summer Vacation
Nightly EXCEPT Monday for The Okanagan Screen Arts Society
4:45pm
Rated:
Genre: Animation, Comedy, Family
Running Time: 97 min.
Director: Genndy Tartakovsky
Hotel Transylvania owner Count Dracula (Adam Sandler) realizes he is lonely and decides it might be time for him to try and find love again after spending the last hundred years working non-stop. He attempts online dating but has no luck finding someone special. His daughter Mavis (Selena Gomez) recognizes how tired and lonely her father is and takes it upon herself to both give him both a vacation and a chance at finding love.

She convinces Dracula to accompany her and the rest of their monster family on a luxury cruise so he can take a break from making everyone else's vacations so perfect and take one himself for once. Although he's initially reluctant, Dracula eventually agrees.

The group indulges in all the amenities and activities the luxurious ship has to offer. Dracula finds himself attracted to the ship's beautiful cruise director, Erika (Kathryn Hahn), who reciprocates his feelings. However, as it turns out, she is the great-granddaughter of vampire-hunter Van Helsing, which leads Mavis to question Erika's intentions.
Ant-Man and The Wasp
Nightly EXCEPT Monday for The Okanagan Screen Arts Society
6:30pm
Rated:
Genre: Action/Adventure, Sci-Fi/Fantasy
Running Time: 118 min.
Director: Peyton Reed
Following his participation in Captain America: Civil War, Scott Lang (Paul Rudd) is under house arrest and attempting to juggle his newfound superhero responsibilities with his responsibilities as a father to his young daughter, Cassie (Abby Ryder Fortson). Although she supports his crime-fighting lifestyle, Lang can't help but feel he's messing up his new role at every chance he gets.

While he's grappling with his two very different lives, Lang is approached by Hope van Dyne (Evangeline Lilly) and Dr. Hank Pym (Michael Douglas), who have a new mission for him.

A stealthy criminal named Ghost (Hannah John-Kamen) has gained the ability to phase through objects using stolen Pym technology and threatens to take over the world. Once again, Lang must don the Ant-Man suit. This time, he finds a crime-fighting partner in Hope who has a suit of her own and dubs herself The Wasp.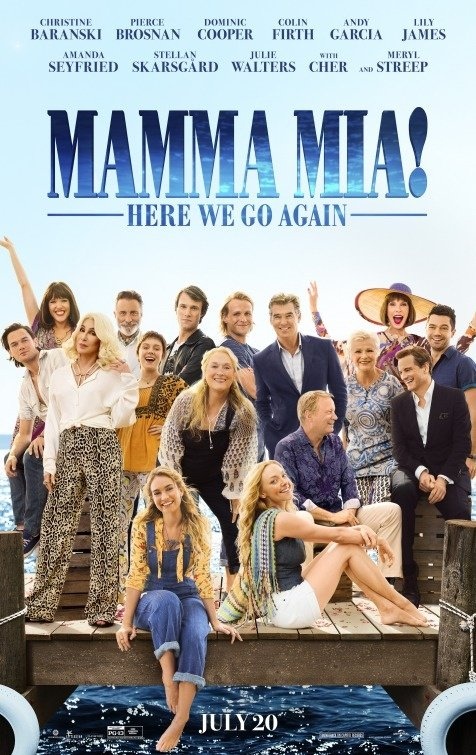 Mamma Mia! Here We Go Again
Nightly EXCEPT Monday for The Okanagan Screen Arts Society
8:45pm
Rated:
Genre: Comedy, Musical
Running Time: 114 min.
Director: Ol Parker
Three years after the events of the first film, when Sophie (Amanda Seyfried) discovers that she is pregnant, she feels terrified at the thought of having to raise a child. She reveals the news to her mother's friends Rosie (Julie Walters) and Tanya (Christine Baranski), and to her three fathers, Bill (Stellan Skarsgård), Sam (Pierce Brosnan) and Harry (Colin Firth).

The group reminds her that her own mother, Donna (Meryl Streep) was faced with the same daunting situation thirty years before when she became pregnant with Sophie. They then reveal the story of when a young Donna (Lily James) came to meet and fall in love with three suitors during one fateful summer in Greece, filled with love, heartbreak, and lots of music.
Don't forget to sign up for our weekly email with next weeks showtimes!
At The Towne Cinema, we are dedicated to providing our customers with friendly service. We value your business. We have made it our mission to provide a memorable experience in our customer-driven approach.
Our courteous, professional team is able to support a range of services to meet your requirements.